You may have never heard of SeaTac before, but don't let that fool you into thinking that it isn't somewhere you should visit. I have been there a few times now and have always enjoyed each visit as much as the last. So don't be afraid of booking one of the great SeaTac hotels and enjoying this fine place.
Alki

 Beach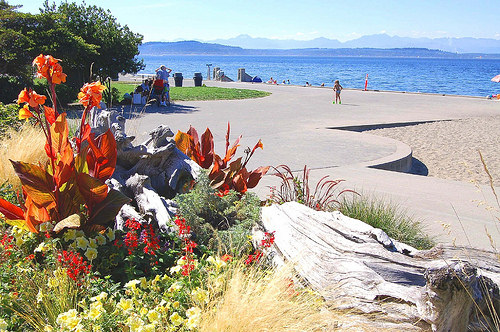 Image via Flickr by Seattle Parks & Recreation
This long strip of beach is actually the place where the first white settlers reached Washington in 1851. Today it is host to many walkers, joggers, beachgoers, and cyclists. The water temperatures are good, and this is the perfect place to enjoy the history of Seattle and soak up the sun and great activities. My favorite parts are the monument to the first arrival of settlers in the area and the beautiful beach scenery that you can enjoy there. I would even consider staying in this part of Seattle because of this beach alone. It is a fantastic base to enjoy the local area.
The Summit at 
Snoqualmie
This winter resort is located on the Snoqualmie Pass, and here you can enjoy alpine skiing, snowboarding, Nordic skiing, and much more. There are a number of ski lifts and trails to enjoy. The vertical drops in the area range from huge at Alpental (2,280 feet) to gentler at Summit West (765 feet). This is a must visit if you are heading to SeaTac in the winter months, as there is just so much to see and do for all types of travelers.
Museum of Flight
Flight is an interesting topic that fascinates me, so the Museum of Flight is naturally a fun way to kill some time by taking a walk through and looking at some of the incredible aircraft. These include Air Force One, the Concorde, and many other fine examples of air and spacecraft. I particularly loved the sections on World War 1 and World War 2, as it was very interesting to see the sheer difference between the technologies in these two wars. Parking is free at the museum, so there really isn't an excuse not to visit this wonderful museum.
Angle Lake Park
This beautiful green park is a lovely place to enjoy the local area and is especially nice during the summer months. The lake offers tree lined waters where you can boat, swim, fish, or simply relax by the water with some excellent food and company. The park is also a great place to take in the local events — the biggest of which is the SeaTac International Festival. This is the ideal place to enjoy either alone, as a couple, or with the family.
Kubota

 Garden

This is probably one of the best-kept secrets of Seattle and is a beautiful place that you should visit. Located in the neighborhood of Rainier Beach, this beautiful Japanese style garden started off as an unkept swamp that was totally neglected. One of the Japanese immigrants, Fujitaro Kubota, shaped the garden in the traditional Japanese style with stunning waterfalls, bridges, and platforms that are a fine example of a garden that the Japanese would be proud of. This public park is also free to visit, so it's a perfect place to enjoy some relaxed time while staying in SeaTac.