There is so much to see and do here that it can be hard to decide what to do or what is the best hotel in San Francisco. I thought it would be a great idea to make this guide to give you a taste of some of the things that you absolutely must see. I hope you enjoy reading about it and feel free to leave a comment if you want to share your own experiences.
Visit Alcatraz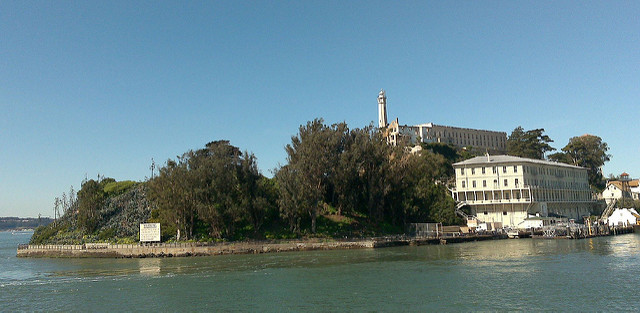 Image via Flickr by pandemia
This converted lighthouse station became a military prison in the late 1800s, and it has become one of the world's notorious prisons. Thankfully it is no longer a prison, but rather an attraction to explore and marvel at.
Seeing a prison from the inside is probably one of our worst nightmares, but it is well worth the creepy factor. It is definitely a thoroughly interesting experience that I would recommend to anyone, if you are looking for even more of a thrill and want to take things further, you can enjoy a tour of the prison at night.
The Golden Gate Bridge
There really isn't quite anything like being in San Francisco and seeing something in person that you have probably seen a thousand times on TV, in movies, and on your computer screen. It is many times more stunning to see this monolithic red bridge that connects San Francisco to the surrounding peninsula.
You should hire a bike and ride over the bridge because this is going to give you some great views and if you feel like it, you can do it a few times. The visitor center is also an interesting place to learn more about one of the most iconic bridges on the planet.
Golden Gate Park
This amazing park stretches from downtown San Francisco all the way to the ocean and is a meeting place for all the locals in San Francisco. There are so many things to see and do here, from walking to jogging to seeing many interesting sights. If you are so inclined, you can also play a round of golf at the golf course right next to the ocean.
There is always something happening in Golden Gate Park too, with music, crafts, and many other events happening each month. If you are visiting, you should definitely look into this too. Aside from the events, it is always worth seeing the Japanese Tea Garden, The Conservatory of Flowers, the de Young Museum, and the two functioning windmills on the western side of the park. This really is a fascinating place to take in some of the unique sites of San Francisco.
Visit Chinatown
Chinatown in any part of the world is a place flourishing with life, and San Francisco's version of this is no exception. It is actually home to the largest group of Chinese immigrants outside of Asia! This means one of many things: great food. There is nothing like trying all the American Chinese classics, like chop suey, fortune cookies, and also the more traditional dishes. You can also find architecture in the traditional Chinese style, like the Bank of Canton (a former Chinese Telephone Exchange) and the Sing Chong Buildings, among others.
Most of all enjoy San Francisco!